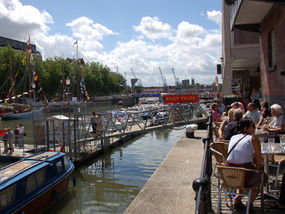 MY WIFE Jane and I have lived in Bristol for 20 years. We've made a home, raised four children and forged good friendships here. But we'd never actually stepped back and had an appreciative look at the city.
Bristol is not just the vibrant capital of the West Country, and it's not simply a handsome old city with a salty, seafaring history. It's the sort of place you land in as a youngster, to go to college or take up that first job, and then somehow never leave.
The heart and soul of Bristol is the magnificent Floating Harbour, a sinuous stretch of water lined with ships and waterfront bars at the core of the city, and that's where we decided to base ourselves for our non-travel mini-break.
MORNING EXCURSION
On a brisk but sunny morning we hopped aboard one of the Floating Harbour's busy water taxis (0117 927 3416/www.bristolferry.com) that buzz between a dozen embarkation points along the city's waterfront.
As the boat plied the water between old warehouses and eyecatching new apartments, the fascinating history of Bristol – merchant harbour, slaving port, transatlantic money market, wartime target and revitalised leisure waterfront – passed before us like a living pageant.
Up on the cobbled quay of Welsh Back we headed off to explore St Nicholas Market – a charming scramble of wooden kiosks and booths selling everything from second-hand books and bike tyres to Bristol Blue Glass and ancient Dinky toys, all under a classic glass roof on elaborate Corinthian pillars.
GRAB A BITE
I could have fossicked in St Nick's Market all day, nibbling Smokey Joe pies from Pieminster's stall, but Jane had other ideas for lunch – namely a glass of sancerre and a bowl of hot and piquant fish soup at the River Station (0117 914 4434/www.riverstation.co.uk) on The Grove.
This former river police station with its picture windows and cool but friendly service is a firm favourite with Bristolian lunchers à deux. We got a table looking out over the Floating Harbour, and watched the gulls drift by for a blissful hour.
AFTERNOON ATTRACTION
In the city forever associated with the greatest of all Victorian engineers, Isambard Kingdom Brunel, it would be sacrilege not to pay a call to SS Great Britain (0117 926 0680/www.ssgreatbritain.org) the iron-hulled ship that lies in the very dock from which she was launched in 1843.
Jane and I had visited the ship before, but not since her great overhaul. You can hire her saloon for a private wedding feast or join historical tours of the ship. Better still, simply wander at will; from grand saloon to engine room, from first-class cabins to steerage passenger hellholes.
It has also been fitted out with life-size waxworks of crew. Admission: £10.95 adults, £5.65 children.
SUNDOWNER
Back on the Floating Harbour we made time for a quick pint outside the Cottage Inn (0117 921 5256). Why hadn't we ever visited this friendly watering hole on Baltic Wharf, with its Bristol-brewed beers and views of scudding dinghies? Never mind – we were on to it now and would return.
DINNER DATE
We might have chosen any one of dozens of excellent eateries in the city. But one glance into the Bistro restaurant of our night's stopover, the Hotel Du Vin on Narrow Lewins Mead, and we agreed we could hardly do better anywhere else.
The subtly lit room looked rosy and intimate; lamplight glowed on musky walls and regiments of old green and brown bottles stood cheerfully guard on sills. Jane's haddock was a smoky dream, she reported; my pink-roast duck ditto.
Room for spiced plums or some of that homemade coconut ice cream? Yes, but no time if we wanted to catch some music.
ON THE TOWN
We hared over to the Old Duke (0117 927 7137/www.theoldduke.com) on the cobbles of Welsh Back for a drop of "filthy jazz", courtesy of Cass Caswell and his almighty Allstars. Through Dixieland to bebop, Mr Caswell and chums drove our head-pumping crowd, a sweaty and steamy triumph of music over elbow-room.
The Old Duke is a seven-nights-a-week, cheek-by-jowl jazzer's paradise where blues and rock are also smuggled in from time to time.
SLEEP EASY
It felt strange to be staying in a hotel only 10 minutes' walk from our house. Bristol's Hotel Du Vin is a highly imaginative conversion of an 18th-century sugar refinery and you just couldn't ask for a friendlier stopover.
A home from home, in fact – if our home happened to have a 7ft-wide bed, a bath big enough to accommodate three close friends, and cheery faces saying "Certainly!" to every request.
Proper job, as they say down here.
INFORMATION: Hotel Du Vin, The Sugar House, Narrow Lewins Mead (0117 925 5577/www.hotelduvin.com) offers
doubles from £140 per night (two sharing), room only. Bristol Tourist Information Centre: 0906 711 2191/www.visitbristol.co.uk