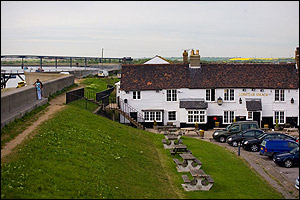 'Cloud Nine, that used to be,' says Chris Fenwick, as we gather round him on the Canvey Island sea wall. He points across Parkin's funfair to a little upstairs clubroom beyond. 'That's where Dr Feelgood played their first gigs, a few dozen jammed in, a few quid if we were lucky, plus a pint each. I was really green as their manager then, but I knew enough to count the punters on the door!'
Pekka from Finland, a doctor by day and a Feelgood tribute band member by night, has a question – so when did things actually take off for Dr Feelgood? The Big Figure, the Canvey-born-and-bred R&B heroes' original drummer, has been strolling the sea wall with us, a dozen outdoor-minded souls out of the hundreds of fans and followers who have come down to the 'Canvey Delta' – as we affectionately term this muddy, marshy corner of the Thames Estuary – to worship at the shrine of 'the greatest local band in the world'. Now he nods. 'Things kicked off big style when we started hitting the London pubs, forty miles up the A13 that way.' The Big Figure points a leather-jacketed arm west up the murky Thames. 'That was the pub rock scene back in the '70s. Bang! We were off and running. But Canvey was the backdrop, our home town, a very unpretentious and down-to-earth place. We were Canvey boys, pure and simple. Canvey made us all what we were. And we didn't ever let each other forget that.
Lee Brilleaux, the gravel-voiced frontman of that famous first incarnation of Dr Feelgood, died of lymphoma in 1994. In his honour Feelgood fans gather in Essex from the four corners of the globe every year on the weekend nearest his birthday, 10 May, for the Lee Brilleaux Memorial. Chris Fenwick, the band's manager since Day One, steers us on a nostalgic walking circuit of Feelgood sites around the sea walls of Canvey Island – sometimes, if our luck is in, with former Feelgoods for company. Then we drink a bathload of beer in the tiny, atmospheric Canvey Club, before sending the Oysterfleet Hotel reeling with a night of gale-force R&B. Revered rockers from the area – Eddie and the Hot Rods, the Kursaal Flyers, Larry Wallis of the Pink Fairies and Motörhead – jump up on stage with the current Feelgoods to trade Telecaster licks and thunderous drum fills. It's a sweaty, chaotic, brilliant night, with any oversize egos left at the door and all proceeds to a local community nursing team.
Canvey Island, the flat piece of reclaimed marshland shaped like a horse's skull that lies off the Essex coast of the Thames Estuary between Tilbury and Southend-on-Sea, is a Feelgood fan's R&B Shangri-la. Where others see only a bleak shore seeded with chemical silos and cheek-by-jowl housing, we scent romance and adventure. No matter that many of us have come to know the real Canvey well, and have made good friends among the Canvey islanders. The moment we cross East Haven Creek we enter a parallel universe – the chancy but captivating world of Oil City where men are men and women are vixens, where devastating dames tap their scarlet nails on your wallet, and dodgy motors are forever screeching up with just the kind of bourbon-guzzling characters you'd step off the sidewalk to avoid.
It was Wilko Johnson, the Bard of Canvey, who created this fantasy island in our minds back in the early 1970s when he was Dr Feelgood's guitar-slinger supreme. The Feelgoods were Canvey to their boot-heels, a quartet of sharply-dressed R&B belters who burst through the soft underbelly of the jaded post-Beatles music business like an uppercut from a private dick. Gruff-voiced Lee barked out the 100 mph, three-minute-maximum songs; John B. Sparks thwacked a bass impassively; the Big Figure played whipcrack drums. Wilko Johnson, meanwhile, thrummed his Fender Telecaster like a stuttering machine-gun and jerked around the stage like a bug-eyed madman. But the guitarist was far more than simply a showman. Wilko was a rock'n'roll poet, a master craftsman of tales and tunes. The songs he wrote presented sharp cameos of cheerful chancers down on their luck, of cheating girls and hard men, citizens of a harsh yet lively town he called 'Oil City'. Each miniature chronicle came across as pungently and economically as a Raymond Carver short story.
'Back when we were starting out,' Lee Brilleaux once told me, 'Canvey had an element of toughness, like most working-class places. Men were expected to be men. If you wanted to find a fight, you only had to spill another man's beer or look at his wife. But there was a warmth about it as well. The funny thing was, Canvey was really a rural community in lots of ways. Everyone on the island knew us kids, and they'd look out for us. I grew up playing on the creeks, building pirate dens out on the marshes – a country boy's background. We knew about tides, about birds and shellfish, alongside the bookies and the boozers.
'Wilko's Johnson's songs did not exactly detail the real Canvey Island, but they played around with it as a setting and an atmosphere. In Wilko's Oil City, his hard-boiled protagonists watched the refinery towers burning at the break of day as they waited for some red-eyed rendezvous; they went places and stayed too long; they jumped up right out of a dream to find the front door wide open and the rain blowing in from the street. If a Wilko Johnson character was faced with an unfaithful girlfriend, he wouldn't lose his cool or burst into tears: no, he'd just rasp, 'I'm gonna get some concrete mix and fill your back door up with bricks – and you'd better be there waiting when I get my business fixed!'
One way of discovering Canvey Island – the Feelgood version – is to turn up at the Lobster Smack Inn on the sea wall on Memorial Friday morning, and join we Feelgood walkers on our R&B pilgrimage. Or you can nose it out on your own. The sea wall path runs right round the island, a superb 14-mile expedition. You can walk the eastern half with its tight-packed streets and shell-sand beaches, its marshes and huge estuary views. Or start at Benfleet station, cross the creek onto Canvey and strike out round the green western end, strolling for hours with only oystercatchers and marsh horses for company before ducking into the Lobster Smack for plaice and chips and a pint. Charles Dickens, that supreme appreciator of lonely marsh country, had Pip and Magwitch hiding out at the Lobster Smack in Great Expectations, and the old pub under the sea wall still somehow retains a tang of remoteness and of idiosyncrasy.
Wilko and his three Canvey Island compadres parted musical company long ago. The guitarist tours with his own band these days. Dr Feelgood are still on the road, too, other musicians having slipped into the shoes of the original Feelgoods over the years. Now the dust has settled, it's no strange thing to see them all up on the stage on Memorial night, giving it plenty. And that's what happens when Pekka and I swagger into the Oysterfleet this evening with our crowd, some sorefoot from the walk, all thirsty, all up for it – whatever 'it' might turn out to be.
Dennis the Dog is on the door and we give him a respectful hello. Then it's into the ballroom, pints in hand. On the stage Wilko Johnson, the Big Figure and sundry band members past and present are giving the Feelgood songbook a good sound thrashing. 'I looked for my baby all over in town,' sings Wilko, up to the mic and back again with his tense clockwork strut, 'I never seen so many women since the time they closed the factory down.' He grimaces, bulges his eyes menacingly. 'Midnight on the river, by the light of the flames; I'm staring at the water and I'm trying to fit a number to her name.'
We've stared at that water, too, today, and have seen the light of the flames flaring from the pipes on Shell Haven oil refinery. I stand wedged in between Pekka and Chris, glorying in the sheer escapist pleasure of hearing those tight, razor-edged Oil City tales of drinking, cheating and losing the plot as they should be heard – live, loud, and right here in their Canvey Island birthplace.

FACT FILE
Travel: Rail to Benfleet (08459-484950; www.thetrainline.co.uk), then taxi (01268-693355 or 680865). Car from M25 – Jct 29, A127, A130; Jct 30, A13, A130
Staying:Oysterfleet Hotel, Knightswick Road, Canvey Island (01268-510111; www.oysterfleethotel.de) – £56dble B&B.Lee Brilleaux Memorial Walk: Friday 11 May 2007; meet at Lobster Smack Inn, Canvey Island sea wall, 10.00-ish.
For details of gigs, recordings, Lee Brilleaux Memorial and all other information about Wilko Johnson and Dr Feelgood, visit www.drfeelgood.org