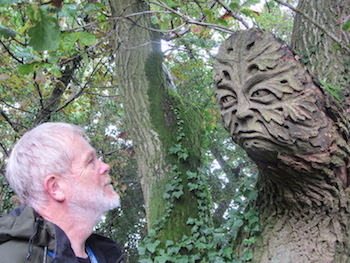 About Christopher
Christopher Somerville is Walking Correspondent of The Times. His long-running 'A Good Walk' series appears every Saturday in the Times Weekend section. He has written some 40 books, many about his travels on foot in various parts of the world, and thousands of articles in all the national newspapers. He has had two collections of poetry published. He loves music, and sometimes tries to play it.

---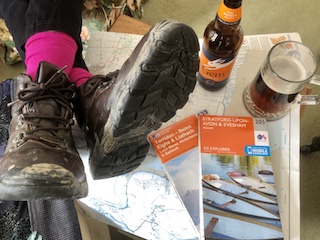 Introducing … the Armchair Walker
Welcome back to post-lockdown wandering! It's wonderful to be able to get out and about, and to walk far and near again. The Times have resumed my weekly 'A Good Walk' column in the Saturday Weekend section (see Walks and Facebook page links on this page), and I'm busy once more piling up new walks in the stock cupboard. There's no knowing how long these new freedoms are going to last, so let's grab 'em while we've got 'em.
Lots of you have said you like the Armchair Walkers I've been posting during the Covid-19 outbreak. So I'll keep them coming on this page, for anyone who can't get out and about on foot. No maps or detailed directions – just an invitation to sit back with a cup of tea or a glass of something nice, and savour some moments, memories and plans for the future!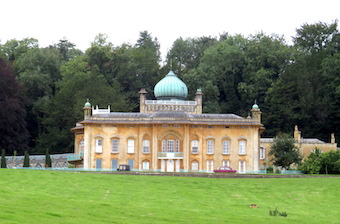 Grease the Boots! Stay Frosty!
Instagram: somervillewalkman
Twitter: @somerville_c
Facebook: @BlogCS
Facebook Like:

Armchair Walker #10
India in the Cotswolds
I'd just about heard the name of Sezincote, but no more than that. I thought it must be another of those gorgeous Elizabethan manors of golden stone that the Cotswolds are so rich in. Queen Bess probably stayed there; Charles II might have dodged pursuit up an oak tree in the park – that sort of thing. But what we found tucked in below the woods near Moreton-in-Marsh was quite a shock to behold.
A day of grumpy weather – nearly as grumpy as Jimmy Anderson. I kept my phone on constant refresh, trying to keep up with the missed catches, rain delays, Pakistani obduracy and other obstacles falling in the path of England's Greatest Bowler as he strained to capture his 600th Test wicket at Southampton.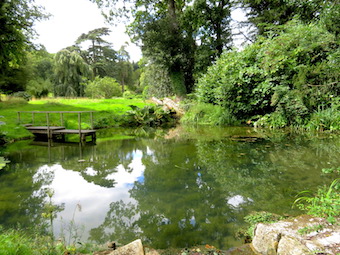 Moreton-in-Marsh is a lovely town with a very wide sheep-straggle of a high street tortured by traffic; Bourton-on-the-Hill a beautiful little sloping village of honey-coloured houses made miserable by 4X4s, fat cars and inexcusably fast and noisy motorbikes pelting down its narrow roadway. Between these two, long fields of harvested barley and wheat with cotton-reel bales of straw regularly spaced, as though giants had temporarily suspended some esoteric game and left all the pieces on the board. Rusty barns, far views across a rolling landscape of green and brown, and church towers and gables of that remarkable golden stone peeping out from trees far and near.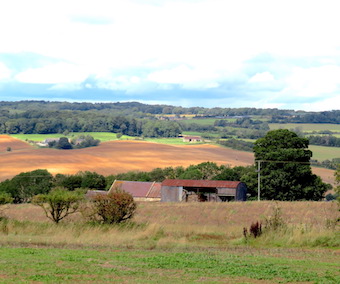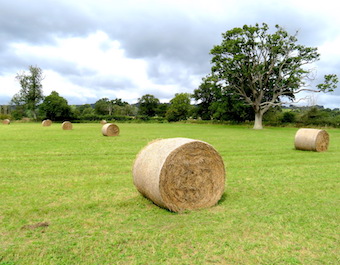 South of Bourton, we came on a slice of the Mughal empire set down in the Cotswolds – the extraordinary house of Sezincote, built in 1805 for Sir Charles Cockerell to the designs of his brother Samuel Pepys Cockerell, who incorporated Georgian, Muslim and Hindu architectural styles in a glorious, jolting mishmash of a building. We walked slowly along the fence at the foot of the slope leading up to the house, marvelling at the minarets, enormous curving orangery, cupolas and great green onion dome capping the whole thing off. George, Prince Regent, visited in 1807, and it's pretty clear where the inspiration for tarting up his Marine Pavilion in Brighton came from.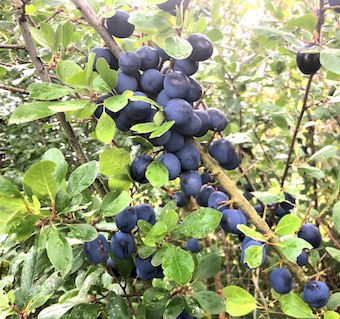 Other delights of the walk – huge old oaks with acorns sprouting galls like the tentacles of sea anemones, and a hedge full of large plump bullace, fat as damsons and bitter as sloes, which we picked into a bag. They'll form a bubble with gin and sugar, and be ready to come out of isolation in a Kilner jar just in time for Christmas.
More Armchair Walkers here
---