Coming up!! – Christopher's new book!
Ships of Heaven – The Private Life of Britain's Cathedrals

(published by Doubleday, 11 April 2019)
Ships of Heaven – The Private Life of Britain's Cathedrals is the story of Britain's flotilla of cathedrals, tossed on waves of power and glory, scandal and mayhem for a thousand years. Nowadays these great stone ships seem as solid and unshakeable as any Rock of Ages. But they are leaky old vessels in uncharted waters. They creak and groan, they fail and founder, then resurface against all odds. Theirs is a thrilling saga of crisis and boldness, of ruin and revival.
Christopher goes behind the scenes to seek out believers, non-believers and troubled souls, bishops and architects, glass makers and embroiderers, the Holy Duster who cleans the ears and noses of the cathedral monuments, and the stonemason who judges his building stone by the way it tastes. He travels with a motley crew of jolly rogues and prophets, of builders and bishops; painters dangling at a rope's end, monks who watch as their life's work comes crashing down before their eyes. In such colourful company we delve deep into the private life and the uncertain future of these ever-voyaging Ships of Heaven.
Lots of talks and events are coming up round the country. Please click here to see when Christopher is in your neck of the woods …
Illustrated with maps, plans and lots of colour photos. Cover illustrations by the wonderful Carry Akroyd (www.carryakroyd.co.uk).
Christopher Somerville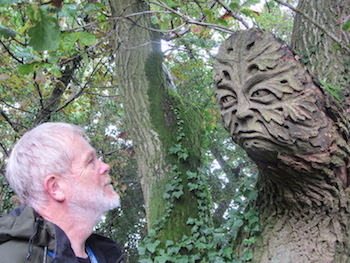 'Through the waves of malaria fever I swung the hang-glider clear of Everest with an inch to spare, as the snow leopard sank its teeth deep into the white water raft strapped to my parachute pack. Then the rip cord came off in my hand…'
Stop! Woah there! If you're looking to find that kind of adrenaline stuff in my books and travel articles, forget it. What I love to do is walk and explore at slow pace in some of the most characterful bits of Europe. I've enjoyed just as much, and maybe learned more, by wandering the country lanes, the back hills and villages, especially in Britain and Ireland, as I have through adventures in the far-flung corners of the world to which a travel writer gets blown.
I have spent 25 years writing and broadcasting about country walks (and tougher hikes), life in remote rural and island communities from Scotland to Crete by way of the Faroes, music-making in Irish pubs, festivals from Spain to Sweden, and the pleasure and delight of telling stories and weaving yarns. Let this website lead you to enjoy them, too! Better still, hire me to write and broadcast some more!
The January Man
The January Man – shortlisted for the Wainwright Prize 2017.
This is the book towards which my whole writing life has been heading.
"Christopher Somerville's moving, measured and immaculate The January Man is part walker's diary, part celebration of his reticent yet loving father."
(Jim Crace, author of Quarantine and Harvest)
"For a writer, the highest compliment he or she can pay another writer is envy. And I was green on reading The January Man. It's not just Somerville's knowledge, it's the truth and clarity in his prose – which is like the pure tone that comes from a tuning fork."
(John Lewis-Stempel, author of Meadowland and The Running Hare)
"It is a wise, entertaining, kind book – one that makes you want to walk, and want to read. The language is taut, beautiful, sparky and generous. It's a book not just for walkers or nature lovers, but anyone who loves a good plain story." (Rachel Joyce, The Unlikely Pilgrimage of Harold Fry)
"This is nature at its most embracing; human nature richly woven into the cycle of the seasons and the ecologies of father and son, observed with the passion and learning of Britain's favourite walker. A truly wonderful, uplifting book, bursting with life."
(Nicholas Crane, BBC TV 'Coast' presenter)

The Times Britain's Best Walks
'The Times Best Walks' has Landed!

The Times Britain's Best Walks by Christopher Somerville
(Times Books/HarperCollins).
A big, bouncy and beautiful collection of Christopher's walks from his 'Times' column – 200 of them! Explore the Jurassic Coast of Dorset and the wilds of Shetland, the flowery chalk downs of Hampshire and the canals and meadows of the Midlands … Welsh mountain lakes, the dales of Yorkshire and Durham, the Lake District fells and the moors of Northern Ireland … all at Christopher's side, complete with the practical info you need, as he entices you with stories, songs and wildlife insights along the highways, the byways, the cliffs and shingle shores of these wonderful British Isles.
– Detailed description as featured in The Times column
– Instructions on getting there
– Simple step-by-step walk instructions with distance and grading
– Where to eat, drink and get more info
– Full colour, clear and up-to-date maps and photography