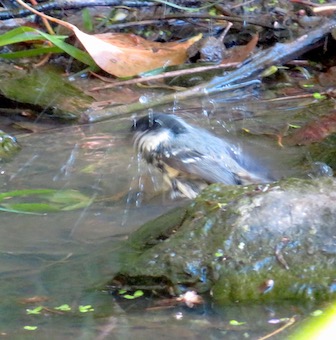 On the northern edge of the village, the short steep lane called Stony Sleight demands a bit of care. The surface is rubbly and irregular, with ribs of exposed reddish rock halfway up. You stumble and stub your boot toes as you climb, you skid and slither on the way down. But it's a short way down from the hills to the village, and a favourite singing spot for birds towards nightfall.
In these strange limbo days of lockdown, walking has taken on a curious sheen of intensity. One's eyes and ears seem double-focused on the details of grasses and leaves, the timbre of bird song and the shapes of the hills. Corners of the woods and fields that I had taken as read demand that I stop, look and listen, rather than powering on by with the next skyline in mind. There's an acute pleasure in this slower and denser tempo, once you surrender to it.


I've known of the old stone-lined sheep dip near the top of Stony Sleight since I was a boy. I must have trudged past it a hundred times. But until a few days ago I'd never turned aside to open the gate, sit on the bank and simply watch.
There must be a spring in the bank or the sheep dip itself, because the level is pretty constant, a few inches of dull bronze water with a muddy margin and some stones and rocks. Leafy ash branches swing low above the pool, offering concealment. Flies and midges are always circling over the water. In short, it's a perfect place for birds to take their regular baths.
I've stopped to watch the evening ablutions of the birds several times this week. The first on the waterline is generally a blue tit. A coal tit with a black waistcoat has been a regular. Other bathers have included a great tit, a robin, and a young and wary thrush. Last night at the sheep dip there was a chiffchaff with a dashing piratical stripe through its eye, and a female blackcap with a pale chest and velvety brown cap. They all follow the same ritual – a hasty duck of the head to begin with, then full immersion, splashing the water all over themselves and sending up rainbow-tinted showers of droplets, washing off dust, dirt and miniature parasites before flying up into the hanging foliage to preen and smooth their feathers.
It might be anthropomorphic to suggest that these little songbirds revel in their sheep dip shower-baths, but that's exactly what it looks like.