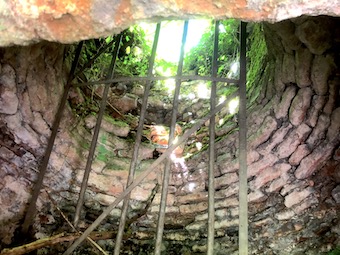 For ages I'd had my eye on a path that loops north from the village to reach the crest of the hills. We finally tackled the walk on Sunday, and I can't remember a more beautiful woodland trail, up through dense woods of ash, beech and oak, in dappled sunlight all the way. What I hadn't bargained for was the secrets hidden in the undergrowth.
Just off the narrow path, among shoulder-high grasses and wood sage (and stinging nettles, now in flower), we found a lime-kiln, essentially a beehive hut with a corbelled stone roof of ingeniously overlapping stones that hold each other in place. Still in place was the stone lintel of the doorway, the hole where the lime rocks were piled in to be burned to powder on top of a fire, and the grid and furnace chamber. We sat inside in the cool shade, speculating on the lime burners and their toxic occupation.
Further up, the narrow valley was lined with stone walls, very mossy and tumbledown. Occasionally the valley bottom widened, and it was evident we were passing through old dry mill ponds and leats of channelled water that once drove a fulling mill or a paper mill, a vibrant and busy little industry now gone and forgotten.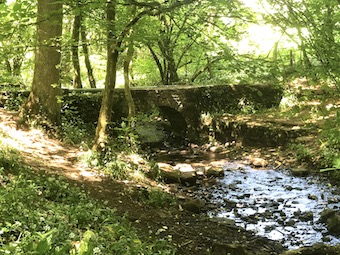 There was no sign of the stream itself, till we arrived at the spot where it came trickling out of the trees, sank into the stony bottom and vanished underground. From here on up to the top the stream was a chatty companion, running under little bridges and across rocky shallows. A grey wagtail came flittering down onto a stone to bob and flirt its bright yellow underparts. It teased my camera finger, always staying just out of reach behind dangling foliage and sticks, till I managed to squeeze off a shot as it pattered away out of sight.
The old milling valley, once loud with mechanical thumps and human voices, is now a quiet woodland of birdsong and insect hum. Another metamorphosis has overtaken the nearby former 'County Asylum for Pauper Lunatics'. The hospital's ornate red limestone buildings, designed by George Gilbert Scott, have been transformed into a beautiful housing estate. Looking down from the homeward path at the old hospital and the milling valley beyond, bathed in evening sunlight, cattle grazing the outskirts, these transformations seemed quite remarkable.